---

---
Enter the Little Red Bustard.
Following on from the phenomenal success of The Fat Bustard summing mixer whose features include Attitude, EQ, stereo width, and of course a big fat sound, we find there's a demand for a similar warm sounding summing mixer with more channels at a lower price, keeping the unique Attitude control.

---
We are proud to announce that our Phoenix HG15 Mono Compressor / Mic. Amp has won two awards!

---
| | |
| --- | --- |
| Thermionic Culture wish to announce that a Balanced Output version of The Culture Vulture Super 15 is now available. Quote suffix 'T' | |
---
Culture Vulture Super 15 Wins Resolution Award.

We are proud to announce that the Culture Vulture Super 15 has won Resolution Magazine's 'Best Processor 2014' award.

Thanks to all those who voted.
---
And the winner is...
The winner of our recent competition to win a Phoenix HG15 compressor is Anna Whitaker from Queensland, Australia. Well done Anna - we've got a new competition starting very soon... watch this space! (Read our review of the HG15 here. )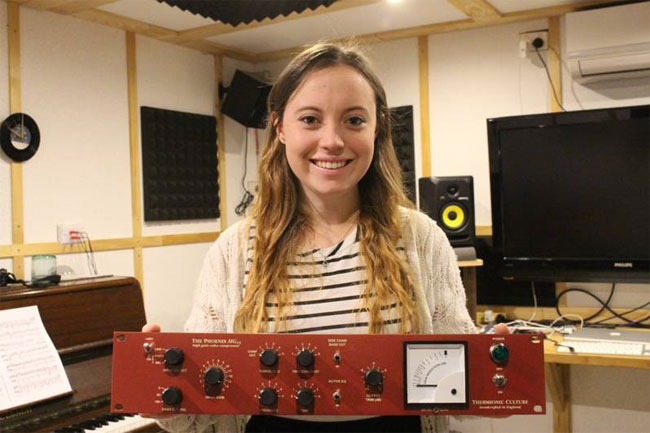 ---
Rik Simpson & Coldplay purchase a second pair of Nightingales to increase their flock to four, in addition to their many other Thermionic products!

On purchasing their first pair of Nightingales, Coldplay's Producer, Mix & Recording Engineer Rik Simpson commented "I tried these out and within an hour knew I had to buy 2 of them. I love the "effortlessness" of the sound, it has loads of character and a clarity that's unsurpassed in my opinion".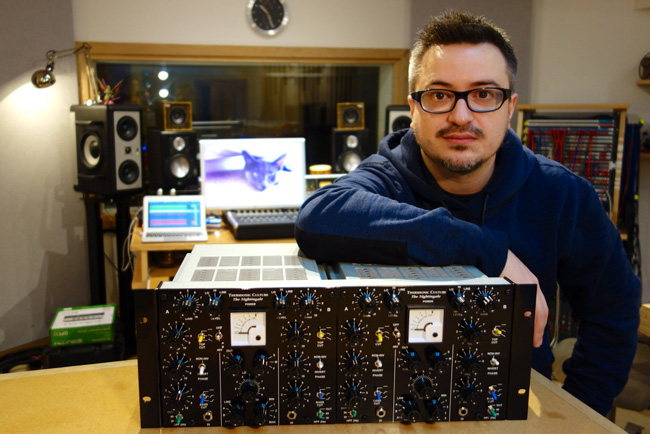 ---
Serge Glansberg (centre) - Director of French Distributor Studio Dealers -  talking to interested parties at the SATIS event
about the use of Thermionic gear in the Broadcast Industry .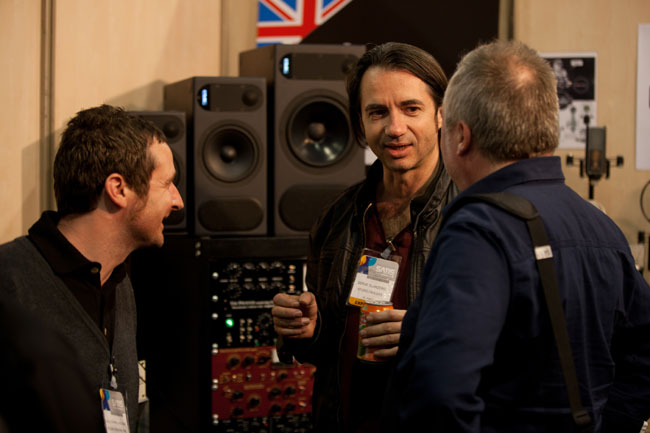 ---
Thermionic Culture collaborated with Benelux Distributors Joystick Audio at the recent SAE Alumni Convention in Amsterdam.
Michiel Hollanders of Joystick is shown here with the gear. The modular desk was supplied by Buso Audio.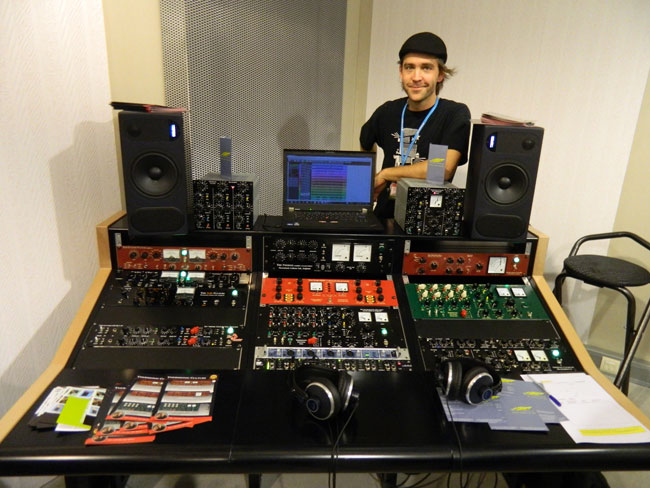 ---
Competition Winner - Congratulations to Nick Eipers – the winner of the Fat Bustard Limited Edition
as featured in Sound on Sound.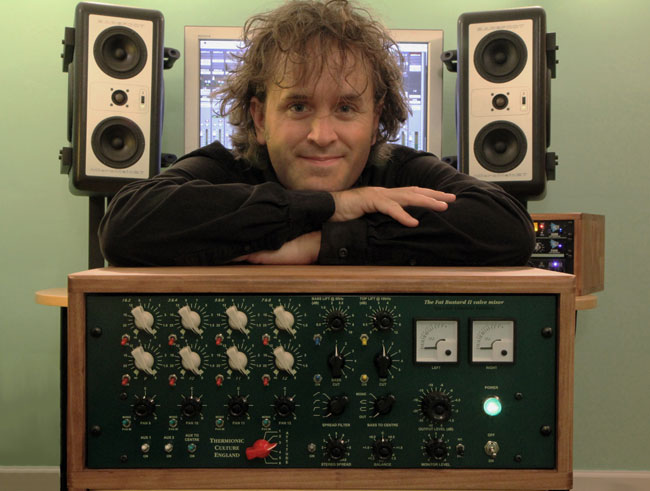 "It's a beautiful piece of gear, and has even more tonal flexibility than I was expecting - with the Attitude control and the Pultec-type EQ tricks that are possible".
Nick's Tie Breaker was:-"Snow Petrel"
The Snow Petrel  is one of only three birds that breed exclusively in Antarctica and has been seen at the South Pole.
This will certainly bring "warm bloodied bird over the icy landscape" for a future project.
---
Competition Winner - Congratulations to Martin Hicks – the winner of the '1000th' Culture Vulture
as featured in Sound on Sound.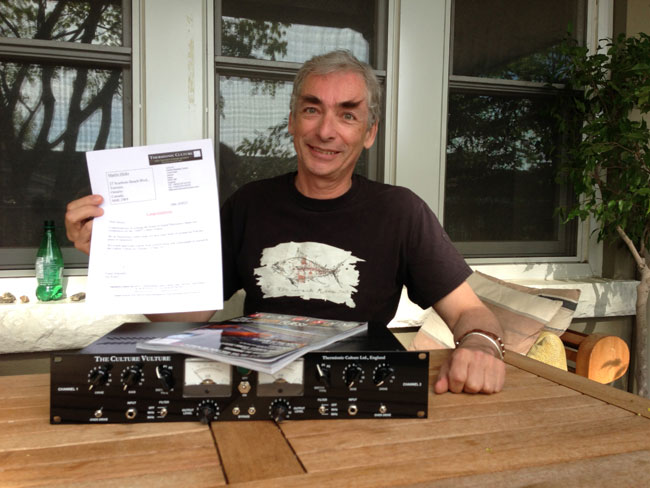 Very happy winner holding the letter of congratulations. Vulture freshly unpacked. Monday is Victoria Day in Canada -- it's a long weekend perfect for experimentation. Thank you for this adventure, Sound on Sound and Thermionic Culture Ltd. Getting to know the Culture Vulture. I am very happy to have it on my signal chain. It is, as advertised, a lot of fun. Pleasantly challenged I was, on this inaugural weekend with the Culture Vulture, to live up to the first sentence in the operating manual: "Do not take this unit seriously." Caught the new Star Trek movie today, "Into Darkness". The original TV series theme played over the closing credits. It's very theramin like (though not recorded on one, it is after all in tune) and so ... What about hitching a theramin to the Culture Vulture?. It's a great way to get perspective on what the vulture does, because it's processing a fairly simple sound wave. And yes, you can play the theramin using a magazine, as long as you use Sound on Sound. Thank you Thermionic Culture and SOS, for sending this wonderful and fun unit my way. Best: sweeping the theramin down as low as it can go and letting the Vulture chew on the bass idle - think Harley Davidson in the key of your choice almost.
---
Nightingale wins Resolution Magazine Award for Quality and Innovation in the Dynamic category.
Following on from our "eq" award in 2009 for the Rooster, we are chuffed to bits to get another gong, this time in the "dynamic" category of the Resolution 2012 awards. We are very proud of this 2 mic. amp /equaliser and compressor, and believe it to be one of our most feature packed and flexible units, equally at home in the studio and on stage.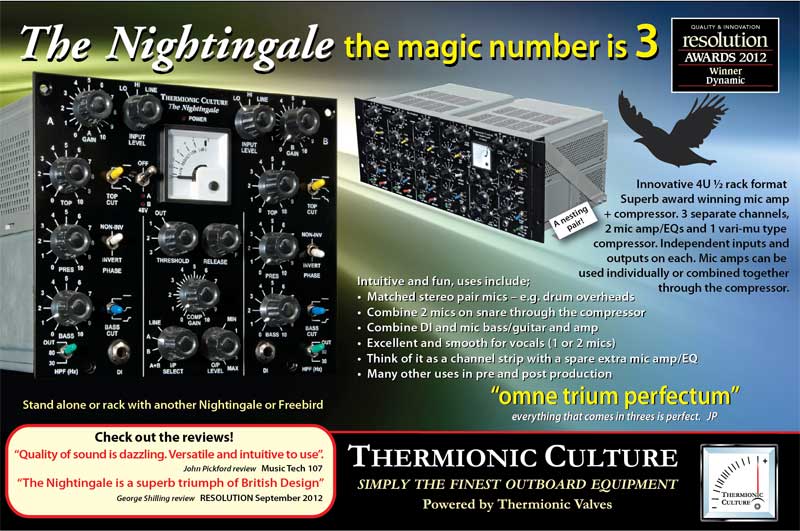 ---